Figure 3: Charles Frederick Heywood, 1823-1893 (unverified).
---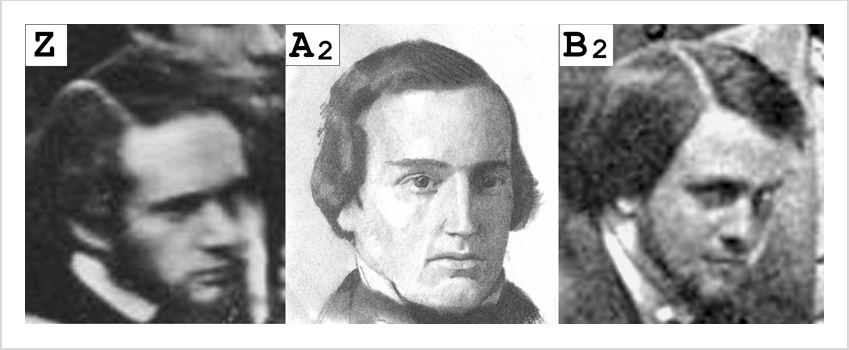 Comparative views of Heywood and Bigelow: Z.) Detail of Figure 3 in the reenactment daguerreotype. A2.) Detail (reversed) of Hinckley's charcoal sketch, inscribed with Heywood's name. The sketch appears to blend the portraits of Figure 3 and Bigelow in EDD No. 5. B2.) Detail of Bigelow, the etherizer in EDD No. 5. Mistaken for Heywood by historians.
• • •
Historians who guess that Figure 3 in the reenactment daguerreotype is Charles Frederick Heywood (1823-1893) may be right, but except through his representation in Hinckley's painting of the Abbott operation, no other documentation exists for their claims. Before any alternative attributions can be considered, the profusion of conjectures obstructing the view must be cleared away. Alternative guesses include William Augustus Briggs, who will be discussed under J. Mason Warren's March 13th surgery; and Charles Bertody, who will be considered as the identity of Figure 1, and discussed under Samuel Parkman's December 9th surgery. Heywood was appointed House-surgeon at Massachusetts General Hospital in August, 1846.
Lowry & Lowry support their Heywood attribution (60) with a reference to a biographical memoir written on him by Dr. Leroy D. Vandam, but the Ether Dome daguerreotypes were never broached in Vandam's paper.(61) In fact, Vandam held no high opinion of Heywood, observing he "showed little tenacity or remarkable achievement in any of his professional endeavors," and it was "somewhat surprising" he was appointed House-surgeon. However, like Samuel Parkman, Heywood self-experimented with ether, and his preceptor was Henry Jacob Bigelow, who may have had a hand in his appointment. His statement in Trials of a Benefactor that he "assisted in the administration of ether" in the first two ether operations, aggrandizes his role as the messenger between Morton and the surgical department at MGH.(62 »») Except for a possible connection through the Hinckley painting, these claims are all undocumented and motivated to promulgate the reenactment scenario for EDD No. 1.
Assuming that Figure 3 is Heywood, the legacy attributions that also name him holding the sponge in the other Ether Dome daguerreotypes all fail when comparing oral commissures – sunken in Figure 3, but risen in the mouth of the etherizer seen in EDD Nos. 2-5. The nostrils of Heywood flare less, and he has a rudder-like nose, narrower face, thinner earlobes, less padded cheeks, flatter brow-line, wider mouth, deeper set eyes. These are all belying landmarks that Figure 3 was also the etherizer in the other Hawes daguerreotypes.
• • •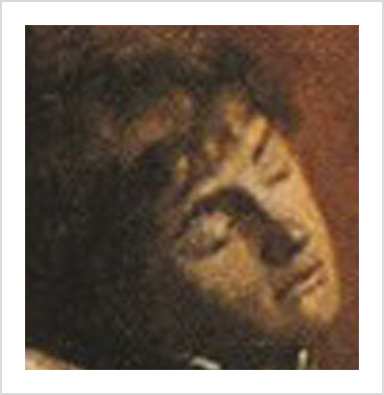 Detail from Hinckley's painting of the Abbott operation. Viets identified Dalton in this figure, but this attribution should be weighed against the resemblance to Figure 3 in the reenactment daguerreotype. Furthermore, Dalton was nearsighted and always wore glasses. Heywood earned his place on Hinckley's canvas and none of the other figures are a match.
• • •
Significantly muddying the iconography of ether is a sketch of Heywood that Hinckley prepared for his painting, and that may have misled historians into thinking Heywood, not Bigelow, was the etherizer portrayed in EDD Nos. 2-5. The sketch strikes my eye as a blend of Figure 3 in EDD No. 1 and the etherizer Bigelow in EDD No. 5. Delineating like he did with his drawing of Daniel Denison Slade, Hinckley pivoted and merged the linear perspectives of the two dagerreotype figures, but didn't quite pull it off as a result, and so the drawing is less successful, reading more like caricature. Heywood was one of Hinckley's correspondents, and would have sent sample photos of his face to the artist, but it's doubtful his hair fringed over his forehead in any of those images. The rough bangs add a wonderful human touch, but also corrected the shape of Bigelow's forehead blended into the sketch. If my attribution of Heywood in Hinckley's painting is right, then Hinckley either abandoned his sketch completely, or abstracted from it to match Figure 3 more closely.

60.) Lowry & Lowry (2005); p. 79. "At the other side of Townsend is the recently appointed junior house surgeon, Dr. Charles Frederick Heywood, who appeared in subsequent daguerreotypes as the anesthetist."

61.) Vandam, LD (1995), "Charles Frederick Heywood : House Surgeon at the Ether Demonstration." In: Anesthesiology. Philadelphia: J. B. Lippincott Company; vol. 82, p. 772-778.

62.) Rice, N (1859); p. 94.
---

©All rights reserved.